The barren vista looking over Utah Lake that once housed the mighty U.S. Steel Geneva Works has been cleaned and prepared to become the home of Vineyard's subsequent major development —
The Flagship Cos. and Woodbury Corp. announced "Utah City" as the name of the over 700-acre master-planned development focusing on a vibrant, sustainable, and walkable mixed-use community along the picturesque eastern shore of Utah Lake. This new development is set to redefine the future of urban living in the western United States.
As a comparison, this is more than 100 acres larger than the touted Point of the Mountain development where the old state prison once stood.
Located on the east shore of Utah Lake, this will be Utah County's largest sustainable, walkable, transit-oriented, mixed-use community. Planners say Utah City is being designed and developed to be the county's urban core.
According to Jeff Woodbury, managing partner of Utah City, the project is a "legacy development."
"This is Utah County's new downtown," he said. "We have flown worldwide to see what will be best for this community."
Woodbury said it is a "legacy" because it will constantly upgrade with new technologies. He added that building something this big from the ground up is a gift that most cities wish they had.
"My grandchildren will be working on this," Woodbury added. "We feel a real stewardship to Utah County. We will hopefully see the need to make changes always."
According to Nate Hutchinson of Flagship, another managing partner of Utah City, Utah City is being built for everyone.
Ground was turned last week on 450 units of multi-family dwellings, signaling the start of the project. The Huntsman Cancer Institute will break ground early next year.
"There will be homes for billionaires and affordable housing for kids now living in their parents' basements. It will be a mixed-use environment. All will be welcome, but it may not be for everyone."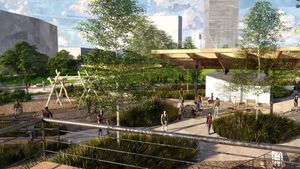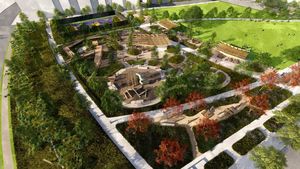 Over hundreds of acres along Utah Lake's eastern shore, Utah City has been designed by Jeff Speck and town planning firm DPZ.
Utah City will be accessible off Interstate 15 from 1600 North, 800 North, and Center Street exits going west, east-west connectors, and the Vineyard FrontRunner station.
Vineyard Mayor Julie Fullmer said she is excited to see this development come to fruition. Other city leaders and councils began the discussions several years ago and have been working with the state, Utah Department of Transportation, Utah Transit Authority, Utah Lake Commission, The Church of Jesus Christ of Latter-day Saints, Alpine School District, Utah Valley University, the Huntsman Cancer Institute, and other stakeholders.
"The site will bring community connection, increased recreation, a diverse economy, and add access to universities, increasing our talent pipeline," Fullmer said. "As facilities like the second headquarters of the Huntsman Cancer Institute develop, the housing types, open spaces, and planned boardwalk along the lakeshore will create places and homes for those working here. Our residents and visitors will be able to access this area that connects to regional trails, Utah Lake, and multi-modal and jurisdictional networks that bring them quickly into Vineyard's downtown, up into the mountains, around the lake, and to nearby international airports, bringing vitality to our incredible city."
The anticipated growth of the state and county, along with the project's overall scope, plays into the all-encompassing project name. Currently, there are 3.3 million residents in Utah, which is expected to grow to 5.2 million by 2060, and 30% of this growth is expected in Utah County.
Anchors of the project already include Vineyard Station, which opened in August 2022, and a recently announced Huntsman Cancer Institute. This comprehensive research center will provide over 150 patient beds and will bring thousands of high-paying jobs to the county's economy.
According to Hutchinson, Utah City's unique location created an irreplaceable chance to rethink development on the Wasatch Front. "As the county has continued to grow, we recognized the immense potential to create a world-class living experience," he said. "Building something incredible for our community that enhances the natural beauty of the location, right in our backyard, that's the dream."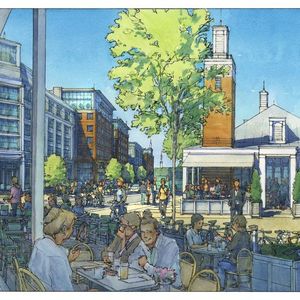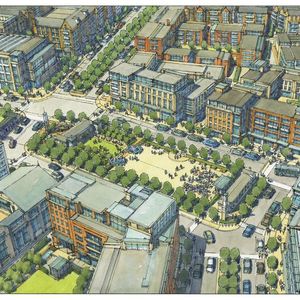 Utah City is a commitment to push Utah forward. Offering a world-class experience, built sustainably and with a comprehensive quality of life in mind. We're so passionate about making Utah better we named our city after it.
OVERVIEW
Less Than an Hour from World-Class Ski Resorts
Utah City has easy and direct access to Park City, home to some of the best skiing resorts in the country.
Shop, Dine, and Unwind with Exclusive Designer Shops and High-End Restaurants
From fine dining to fusion, Utah City is focused on fostering a diverse food scene and the best luxury shopping in the state.
Diverse Options to Live or Visit
Utah City will accommodate multiple living budgets and lifestyles and be home to elevated hotels and hospitality options in Utah County.
Parks, Trails, and Lakes in Your Backyard
Located on the shores of Utah Lake, residents will have direct access to scenic views and Utah Lake State Park.
Over 17 million square feet of combined mixed-use space, including living, shopping, dining, entertainment and hospitality, is planned. Construction will begin at the end of the year on the first residential units. The new community will also include 50 acres of designed open green space in the form of a 12-acre promenade that will run down the middle of the town center from the Vineyard FrontRunner station to the shores of Utah Lake, as well as a network of parks and paseos throughout the residential units.
"Utah City is a visionary development that we are thrilled to welcome to our city as the largest regional development in Utah County," Fullmer said. "By partnering with Utah City to take a proactive approach in shaping the future we desire, we can capitalize on the innovative spirit of our community and our strategically connected location to create an unprecedented experience for Utah."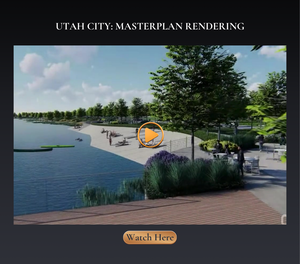 Local Knowledge & Global Connections!
Connect with Our Experts: Our experienced real estate professionals are here to guide you every step of the way. Contact us for personalized advice and property tours.
The real estate market in Vineyard, Utah, is booming, and Utah City is in high demand. Don't miss out on this incredible opportunity to invest in your future. Act now to secure your dream home in this dynamic community.
Your new beginning in Utah City is just a click away. Don't wait – seize the opportunity and make Vineyard, Utah, your home sweet home!