6 New Restaurants You Can't-Miss In The Salt Lake Area
There are many reasons people are attracted to the charm of Salt Lake City and its neighborhoods from 9th & 9th to Park City; their historic appearance and surrounding nature draw us in. Whether you're in town for a winter visit or searching for Park City homes for sale, here are six can't-miss new restaurants in the area.
---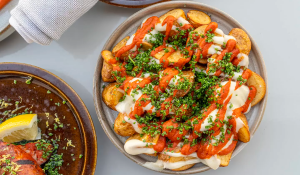 1. Mar | Muntanya
Hyatt Regency – 170 S. West Temple, Salt Lake City
Located in the heart of downtown Salt Lake City, Mar | Muntanya serves up a lively dining experience celebrating the culture and flavors of Northern Spanish cuisine with a Salt Lake twist and equally appetizing views of the surrounding skyline and mountain scenery.
Helmed by Executive Chef Tyson Peterson, a Salt Lake City native, Mar | Muntanya's menu draws inspiration from the coastal and mountainous regions of Basque Country and Catalonia, where the character of the land is akin to the Great Salt Lake Valley and contrasting Rocky Mountains. "Developing the menu for Mar | Muntanya has been exciting for me," said Peterson, who has opened two other Spanish-inspired restaurants during his career. "At Mar | Muntanya, we want our guests to leave feeling as if the communities of Northern Spain settled in Salt Lake City and brought their lively culture along with them. We want to recreate a similar feeling of being in Northern Spain, leaning into the spirit and energy while also being authentic to Salt Lake City."
---
2. Urban Hill
510 S 300 W Ste 100, Salt Lake City
The local owners of Park City's award-winning Hearth and Hill restaurant and Hill's Kitchen café & catering expand their "gathering spot" with this eye-popping addition to the downtown SLC scene; it opened in late December 2022 and looks set to be one of THE spots to hit for those looking for something new and upscale. The restaurant is easily one of the fine dining gems of the city, powered by a stellar crew.
The menu is one of an elegant steakhouse with Southwest and International flair throughout. Restaurateur Brooks Kirchheimer has created a foodies' heaven with his hallmark local sourcing of American and international regional cuisine and a commitment to "make every dining experience a special occasion." Designed by Denver's renowned architectural firm Semple Brown in the City's smartly rejuvenated Post District, Urban Hill features a wood-fired grill, oyster bar, curated wine selection, expansive lounge, and generous private dining and patio areas.
---
3. Pine Cone Ridge
577 Main Street, Park City, UT
A new restaurant from Park City restaurateur Bill White (Grappa, Chimayo, Windy Ridge, Ghidotti's, Sushi Blue, Billy Blanco's) is always much-anticipated, and it's been a while since he opened a new one. Last week, however, White and his restaurant group opened Pine Cone Ridge at 577 Main Street, the former home of Wahso restaurant. The space has been completely remodeled.
Serving elevated contemporary American cuisine, Bill White says of Pine Cone Ridge, "Our menu focuses on farm fresh ingredients, a thoughtfully curated menu by Chef Gudrun Thorne-Thomsen, and a variety of craft cocktails and extensive wine lists from around the globe. A reimagined dining room surrounded by nuances of Americana artwork, emerald green tufted booths, Brazilian hardwood flooring, and a one-of-a-kind ambiance and service. This new experience is ready to envelop you!"
---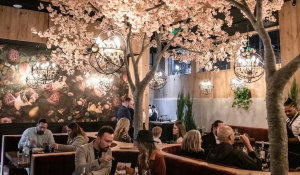 4. Italian Graffiti
156 South 400 West, Suite 113, Salt Lake City
Italian Graffiti is the latest effort from chef Marc Marrone, who is becoming an increasingly known name on the Utah dining scene. Marrone was the brains behind the dazzling neon of the 80s-themed Snowmobile pizza, as well as the bao buzz of Graffiti Bao
Marrone switches up the gears again with Italian Graffiti, with contemporary Italian cuisine offered in an upscale dining space kitted out in natural woods. Handmade pasta and rustically finished proteins like Duroc pork with braised fennel litter a handsome menu. Keep your eyes peeled for the bread cart, too, loaded as it is with a tempting selection of freshly baked, seasonal bread. Blink, and you might think you're dining in the heart of the Italian countryside.
---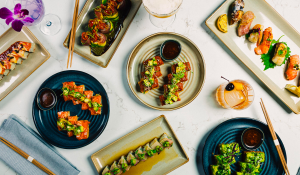 5. Aqua Terra Steak & Sushi
50 South Main Street, Suite 168, Salt Lake City
Tired from a long day of shopping at City Creek Center? What better way to relax and recover than a stop at this elegant new restaurant, handily located along Main Street in the center of the mall; you can find it on the west side of Main, just past the sky bridge through the main mall doors.
As you might have garnered from their name, the core of the concept at Aqua Terra is a robust lineup of steaks, sauces, and sides, ably supported by wild game such as boar, elk, and bison. And, of course, there's a creative lineup of maki and nigiri sushi too. Sit at the large sushi bar and enjoy your dinner omakase style or take a long lingering look over that wine menu and enjoy a slow recuperating meal.
---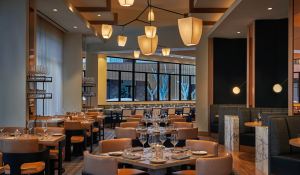 6. Kita
2417 West High Mountain Road, Park City
Japanese for "north," KITA is a Japanese grill-style restaurant set in a stunning, modern space that welcomes guests with indoor, al fresco, and sushi bar seating. The menus spotlight fresh sushi, Japanese steakhouse favorites, cozy ramen bowls, and a thoughtfully curated menu of beer, sake, wine, and cocktails.
Of particular note is the important Japanese A5 Miyazaki beef – amazingly rich and tender. KITA is located within the Pendry Park City resort.
---
READY TO TRY OUT THESE DELICIOUS SPOTS?
Whether you live in Salt Lake or are visiting our beautiful state, we have plenty of restaurants for all taste buds and cravings for everyone to enjoy. If you're interested in living a little closer to these dining spots or would like more local guides, connect with us and we would love to show you through the process. We have over 20+ years of combined experience in Utah real estate and our local knowledge of the market is second to none. We have extensive connections and the marketing savvy to help you purchase… (or sell) the home of your dreams. 
Reach out today to learn more.