Although conventional wisdom is that selling your home in colder months is not a good idea, it's simply not true. There are several advantages to selling during winter—and many practical strategies for doing so successfully.

Benefits of winter 
selling
With its shorter days and holiday seasons, winter makes us want to push off our big projects until spring. However, it is an ideal time to list your home for many reasons. And with help from your real estate agent, you can improve your chances of selling quickly and for a fair market price.
Less competition
Spring and summer are the most popular times to sell; therefore, there's often a lack of competition from other sellers during winter, so putting your home on the market in winter can put you in the driver's seat.
Motivated buyers
Generally, winter buyers are motivated buyers. They're likely moving for reasons that do not allow them to wait until the busy spring and summer markets are typically laden with listings. For instance, January is one of the most significant months for corporate job relocations. Those buyers often have to move as quickly as possible, especially if they have children in school.
Limited inventory
During winter, the principle of supply and demand kicks in—buyers are less likely to haggle on the price due to lower inventory levels, increasing your chances of selling your home at full price.
Nice curb appeal
Some homes show better in the winter, especially in areas with frequent snowfalls. You can't beat the beauty of a snow-capped roof or the delicious smell of tree pine. And depending on your location, this could be your home's best-selling curb appeal feature!

Considerations for selling
Listing your home in the winter can have disadvantages, so depending on your circumstances, you'll want to weigh the pros and cons and the various options available.
Inclement Weather
Since the weather can be unpredictable, scheduled showings may be interrupted, or your moving day may need to be postponed. Try to manage your expectations by being flexible and having a backup plan in case of delay.
Winter upkeep
Maintaining your home's curb appeal can be difficult due to fallen branches, wayward leaves, and a browned lawn. If you tend to have snow and ice on your property, take the time to shovel and sand the steps and driveway to give buyers easy access to your home.
Daylight savings
Because the days are shorter at this time of year, it may be difficult for buyers to take in all your home has to offer if they're touring your home later in the day. Proper staging and lighting can help position your home in a better light.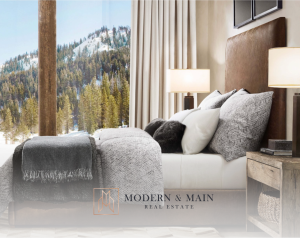 Stage to sell
Other than pricing your home correctly, staging is one of the most important things you can do to sell your home in the least amount of time for the most amount of money. Although maintaining great curb appeal during winter has challenges, taking the extra time and effort to stage your home can positively impact a buyer's first impression.
Welcoming decor
If you typically add lights and simple holiday decor to your home, consider leaving them past the new year and blending them with your typical design style to keep that warm, cozy feeling alive. However, discard your Christmas tree and any other holiday-specific memorabilia.
Comfortable atmosphere
On a chill day, turn your heat up, and if you have an easy-to-operate fireplace, flip on the switch to add warmth and ambiance. For daytime showings, draw the shades and blinds, and turn on any overhead lights to make the room as bright as possible. Conversely, turn on all table and floor lamps for warm lighting for evening showings, and ensure your home's exterior is well-lit. It's also not passé to bake some cookies, brew a fresh pot of coffee, or offer up a cup of hot cider to buyers and agents—it sets a comforting tone and a friendly atmosphere.
Marketing collateral
No matter what time of year you sell, creating eye-catching, storytelling marketing materials is essential for any listing. And because sales are slower in the winter, your real estate agent will have even more time to dedicate to making your listing stand out. Also, emphasize local attractions, events, and available activities with the chamber of commerce brochures, to give the buyer a sense of what to expect in your community.