Unveiling the Wonders: Utah's National Parks Adventure Extravaganza!
Hey there, fellow adventurers! Are you ready to embark on an epic journey through the stunning landscapes of Utah's national parks? From awe-inspiring canyons to towering red rock formations, Utah's national parks offer an adventure extravaganza that's nothing short of breathtaking. Buckle up as we take you on a whirlwind tour through each of these natural wonders!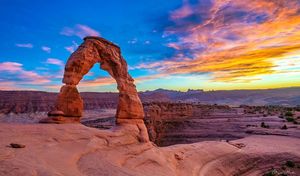 Arches National Park: Where Nature's Sculptures Run Wild
Welcome to the playground of Mother Nature's artistic prowess! Arches National Park is a mesmerizing landscape filled with gravity-defying rock arches that seem to defy the laws of physics. Imagine hiking through a surreal labyrinth of sculpted stone formations, feeling like you've stumbled upon a magical world straight out of a fantasy novel. Delicate Arch, a famous landmark here, stands proudly as if it's nature's own Olympic torch. As the sun sets, the rocks glow with hues ranging from burnt orange to fiery red, creating a scene so surreal you might think you've stepped onto another planet.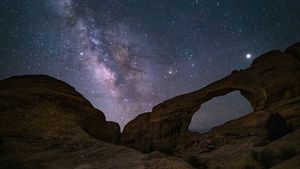 Canyonlands National Park: A Maze of Adventure
If you're seeking a true escape from the mundane, Canyonlands National Park is calling your name! This vast expanse is divided into four distinct districts, each with its own unique charm. The Island in the Sky boasts awe-inspiring panoramic views that will make your jaw drop. The Needles District, with its towering sandstone spires, invites you to unleash your inner explorer as you weave through a labyrinth of trails. And for the daredevils, the Maze District is like the ultimate nature challenge, offering rugged terrain and remote solitude. Can you conquer the canyons and leave your mark on this wild masterpiece?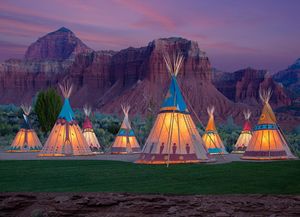 Capitol Reef National Park: Where History and Nature Collide
Prepare to travel back in time as you venture into the rugged embrace of Capitol Reef National Park. Here, towering monoliths rise out of the earth like ancient sentinels guarding secrets from eons past. But it's not just the geology that's fascinating—explore historic orchards that tell tales of human perseverance in the face of adversity. The Waterpocket Fold, a colossal wrinkle in the Earth's crust, serves as the park's spine, inviting you to hike its crevices and gawk at its splendor. Be sure to bring your camera, as every twist and turn reveals a new masterpiece waiting to be captured.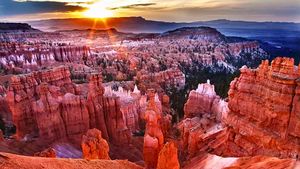 Bryce Canyon National Park: Hoodoos, Vistas, and Fairytales
Are you ready to step into a fairytale? Bryce Canyon National Park is a realm of ethereal beauty where whimsical formations known as hoodoos stand tall like ancient, enchanted guardians. As you hike along the rim, your gaze will be drawn to the vast amphitheaters filled with these captivating rock spires. At sunrise and sunset, the landscape transforms into a symphony of colors, as if the heavens themselves are painting the skies. Peek over the rim or venture below it to feel the magic up close—the hoodoos will surely cast their spell on you.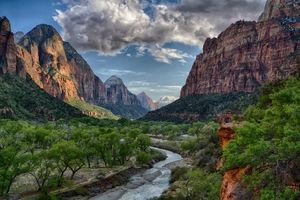 Zion National Park: Nature's Cathedral of Grandeur
Hold onto your hats because Zion National Park is ready to sweep you off your feet with its grandeur! From the moment you step into the park, you're greeted by towering sandstone cliffs that seem to touch the sky. The Virgin River carves through the landscape, creating the iconic Zion Canyon, a place of awe and wonder. Hiking The Narrows through the river itself or ascending to the heights of Angel's Landing will leave you exhilarated and humbled in the face of nature's masterpiece. And remember, here, you're not just a visitor—you're part of the symphony of life that echoes through these majestic walls.
In conclusion, Utah's national parks offer more than just natural beauty—they offer a canvas for your real estate dreams. From the picturesque landscapes of Arches to the pioneer spirit of Canyonlands, each park presents a unique opportunity to find your dream property. Capitol Reef, Bryce Canyon, and Zion complete this real estate adventure, offering historical charm, ethereal landscapes, and breathtaking views. So put on your real estate explorer hat, venture into Utah's national parks, and unlock the door to your dream property amidst the wonders of nature!