Utah is renowned for its stunning fall foliage, and there are numerous places throughout the state where you can witness the vibrant colors of autumn. The timing of peak fall foliage varies yearly, but generally, it occurs between late September and early October. To help you plan your fall foliage trip in Utah, here's a blog post highlighting some of the best places to see fall colors and when to visit:
A Guide to the Best Places and Timing to Enjoy Fall Colors in Utah
---
Introduction
Utah transforms into a breathtaking tapestry of reds, oranges, and yellows during the fall season. If you're a nature enthusiast or simply looking to immerse yourself in the beauty of autumn, Utah has some incredible destinations that offer vibrant fall foliage. In this guide, we'll explore the best places to experience fall colors in Utah and the ideal times to plan your visit.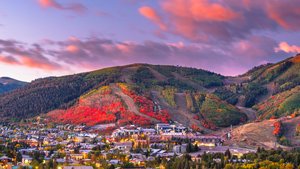 **1. Park City
Best Time to Visit: Late September to Early October
Start your fall foliage adventure in the charming mountain town of Park City. The aspen trees that blanket the mountainsides turn brilliant shades of gold and orange, creating a picturesque backdrop. Take a scenic drive along Guardsman Pass or hike one of the many trails for an up-close view of the foliage.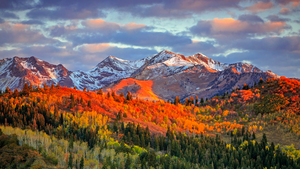 **2. Albion Basin, Little Cottonwood Canyon
Best Time to Visit: Late August to Early September
For early fall color enthusiasts, Albion Basin is a hidden gem. This high-elevation spot bursts into color before most other areas in Utah. The wildflowers and groves of aspen trees make for stunning photography opportunities.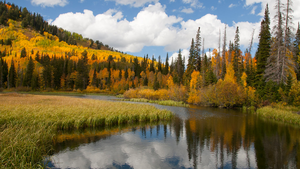 **3. Big Cottonwood Canyon
Best Time to Visit: Late September to Early October
Big Cottonwood Canyon, located just outside Salt Lake City, is known for its dramatic granite cliffs and vibrant fall foliage. Drive the scenic byway through the canyon, stopping at various viewpoints and hiking trails to witness the autumn transformation.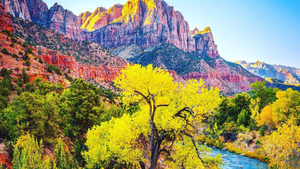 **4. Zion National Park
Best Time to Visit: Mid to Late October
Zion National Park offers a unique twist on fall foliage with its contrast of red rock formations and golden cottonwood trees. The cottonwoods along the Virgin River add a pop of color to this already stunning landscape. The best time to visit for fall colors is a bit later than other areas due to its lower elevation.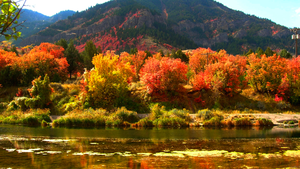 **5. Logan Canyon
Best Time to Visit: Late September to Early October
Located in northern Utah, Logan Canyon boasts a stunning display of fall colors. The Logan River and the numerous hiking trails make this an ideal spot for a serene fall adventure.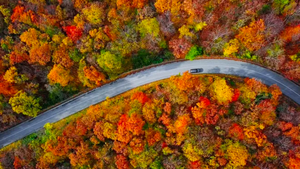 **6. Mirror Lake Scenic Byway
Best Time to Visit: Late September to Early October
This byway in the Uinta Mountains offers a mesmerizing drive through dense forests of aspen trees, with several lakes providing stunning reflections of the fall foliage. Plan a day trip or spend a weekend camping in this natural wonderland.
For A Interactive Map Click Below: See When The Best Time To See All The Colors In Your Area
Conclusion
Utah's fall foliage is a sight to behold, and these destinations offer some of the best experiences for leaf-peeping enthusiasts. Keep in mind that the timing of peak fall colors can vary from year to year, so be sure to check local updates and forecasts as you plan your visit. Whether you're into hiking, scenic drives, or simply admiring the beauty of nature, Utah's fall foliage won't disappoint.
---
While fall is undoubtedly a beautiful time to explore Utah's landscapes, these regions offer year-round recreational opportunities. Owning property in these areas means you can enjoy skiing in the winter, hiking in the summer, and, of course, the stunning fall colors.
In essence, the allure of Utah's fall foliage can extend beyond the beauty of nature; it can also have a positive impact on the state's real estate market. So, whether you're seeking a picturesque retreat or an investment opportunity, Utah's autumn wonderland might just be the place to start your real estate journey.
Now, as you plan your visit to witness Utah's fall colors, consider the potential real estate opportunities that these beautiful areas may offer. It's a win-win for those who appreciate nature's beauty and smart real estate investments.