Design Tips To Create The Perfect Bunk Room
---
We have seen them for a while, and bunk rooms are a great way to accommodate more guests. The design possibilities are endless.
Here are our tips for creating the perfect bunk room.
Maximizing Space With Built-in Storage
Built-in bunk beds allow you to maximize sleeping space. Get creative with storage by incorporating wardrobes for clothing and drawers that can hold anything from folded items to a suitcase.
Go Bold With Railings and Wall Coverings
Railing design and wall coverings are two ways to add personality and make a room feel unique. An eye-catching wallpaper can set the tone for the whole room. Go bold with fun prints and colors that set off the space. Another way to create impact and personalize a bunk room that is often overlooked is the railing design. Contrasting colors or patterns in wood or metal can enhance visual interest.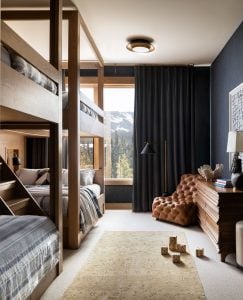 Make the Space Functional With Lighting and Tech
When it comes to lighting and tech, it's important to consider functionality for your guests. Whether you use integrated lighting or decorative sconces that create ambient zones for each bed or cubbies for books and charging your phone and tablet, your design can enhance functionality in individualized ways.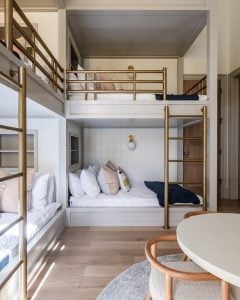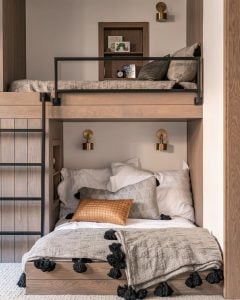 Design with Versatility in Mind
Contrary to popular belief, bunk rooms aren't only for kids. With the right design, they can also be sophisticated adult guest rooms. Consider layouts incorporating larger beds for a bunk suite that blends traditional bunks with conventional sleeping space. Bring in textural wall coverings, textiles, and cleaner lighting for a more edited look, creating a more versatile room overall.
---
Whether building new, remodeling, or updating a room, you can't go wrong with adding a bunk room. Contact us, and we will get the perfect people to help your designs come true!